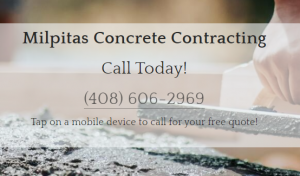 Milpitas Concrete Contracting
Our company provides the best selection and quality of concrete services in the Milpitas area, and providing services to the entire bay. Our professionals are specially trained in deciding the hows, whats, and whys of your projects.
We specialize in all things concrete and asphalt, from patios to roads We offer decorative and residential concrete services as well as commercial services for bigger Our history in Milpitas spans from residential small projects to entire

As well as our other offerings, we provide the construction of retaining walls and structural concrete, steps and patios, driveways and walkways, asphalt and many more
Timezone: PDT
MondayOpen All Day!
TuesdayOpen All Day!
WednesdayOpen All Day!
ThursdayOpen All Day!
FridayOpen All Day!
SaturdayOpen All Day!
SundayOpen All Day!
Milpitas Concrete Contracting
1023 N Abbott AveMilpitas California 95035United States