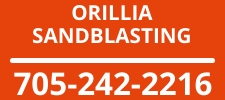 Orillia Sandblasting is committed to providing professional and reliable sandblasting services. We are a team that is going to ensure that the work we do for you is going to be able to last. Also, we will ensure that the work that we provide you with is g
Services – If you need Sandblasting services, then you're going to want to turn to the most trusted professionals in sandblasting in The team that you are going to be able to count on to complete this task is our team

We are the experts who have worked hard over the years to ensure we employ only the most effective methods and strategies Additionally, we are the professionals who are dedicated to achieving results that are going to be long-lasting

There isn't another result that you will get that is as trustworthy or reputable as what we will be able to do for

We'll be able to tackle industrial and commercial We are also going to be able to make sure that the final results are going to meet your needs This is not something you'll be able to accomplish by yourself

Instead, you'll want to count on us, and we are employing the best methods and strategies that are in the market This work is easy because all our workers have completed certification and training programs In addition, all of the workers here have a lot Contact our team today to discuss the followings services that can provide for

Sandblasting
Industrial Equipment
Flat Bed Trailers
Heavy Equipment
Chassis – Truck Bodies
Shipping Containers

We also offer mobile sandblasting. If we are required to visit your location, our sandblasting technician will bring all the equipment to you to complete the job

We stand behind Our goal is to complete the job correctly the first time, and at the cost quoted

Contact us today at 705-242-2216.
Timezone: EDT
Monday
09:00 AM - 05:00 PM
Tuesday
09:00 AM - 05:00 PM
Wednesday
09:00 AM - 05:00 PM
Thursday
09:00 AM - 05:00 PM
Friday
09:00 AM - 05:00 PM
Saturday
09:00 AM - 05:00 PM
SundayClosed
OrilliaOrillia Ontario LOK 1L0Canada