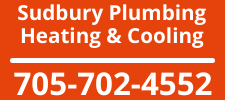 SUDBURY PLUMBING, HEATING & COOLING SERVICES
We are your Sudbury Plumbing, Heating and Cooling Services Company.
Sudbury Plumbing & Heating provides the area's most dependable plumbing and HVAC services. Our range of diverse plumbing and heating work has allowed us to not only help clients in many ways with all kinds of HVAC and plumbing issues, but it is also allowed to make the city a safer place with proper plumbing, heating, and cooling.

Our plumbing and heating work is thorough and detail-orientated and backed by our guarantee for safety. We want to make our services durable, long-lasting, and accessible to all who desire safety and comfort in their homes or buildings.

Plumbing Services
Our certified plumbing and heating expertise is currently available to residents of the Sudbury and Ontario regions. We welcome returning and new clients from the surrounding suburbs to visit us and see how our expert heating and plumbing services can help you.

If you live outside our normal service area but still wish to benefit from our plumbing and heating services, we are happy to help. If anything, we might be able to recommend another trusted plumbing and heating service company closer to your proximity.

Heating Services
If you contact us to schedule an appointment for a plumbing or heating service, please choose one of the specialties from the list below.

We are your local trusted plumbing, heating, and cooling HVAC company. We are licensed, bonded, and insured and we offer affordable pricing, available 24/7. We are Sudbury's best-rated HVAC and plumbing company.

We have crews ready to assist you in any emergency. Call 705-702-4552.
Timezone: EDT
Monday
09:00 AM - 05:00 PM
Tuesday
09:00 AM - 05:00 PM
Wednesday
09:00 AM - 05:00 PM
Thursday
09:00 AM - 05:00 PM
Friday
09:00 AM - 05:00 PM
SUDBURY PLUMBING, HEATING & COOLING SERVICES
SudburySudbury Ontario P0M 1L0Canada
Neighborhoods in Sudbury, Ontario
Adamsdale, Bell Grove, Bell Park, Don Lita, Downtown Sudbury, Little Italy, Minnow Lake, Moonlight Beach, Nickeldale, North Sudbury
Things to do in Sudbury, Ontario
Directions
A.Y. Jackson Lookout
ARC Climbing + Yoga
Adanac Ski Hill
Alex Trebek Memorial Mural
Anderson Farm Museum
Art Gallery of Sudbury
Bell Park
Big Nickel
Canada's Largest Mural
Carmichael Arena
Carol Campsite and RV Park